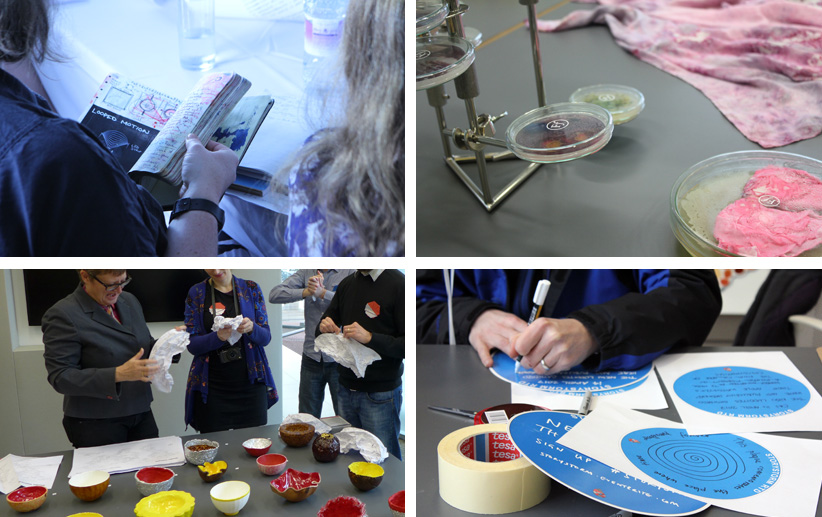 RTD 2013
The inaugural Research Through Design (RTD) conference was envisioned and chaired by Jayne Wallace and Joyce Yee and took place in September 2013 at the Baltic Centre for Contemporary Art in Gateshead as a new, experimental platform for disseminating practice-based design research. It responded to the observation that most conference opportunities are analogous with those of non-design centric disciplines, with the likelihood that key features and dynamics of design researchers' work were being missed by these formats. Therefore, the first RTD conference resisted the temptation to adopt a traditional format for both paper submission and presentation in favour of an exhibition of design research artefacts accompanied by round-table discussions in 'Rooms of Interest'.
The novel format of RTD situates the artefacts and processes of design at the heart of proceedings, for presenters and delegates to encounter them in performative, material terms. This was achieved at RTD 2013 through organising a curated design exhibition that formed a central component of the conference design. The exhibition was physically situated in a central location in the conference venue, and ran for the duration of the proceedings in conjunction with a program of presentations.
RTD 2015
The second RTD Conference was held at Microsoft Research Cambridge in 2015, and the experimental format continued to evolve. Abigail Durrant and John Vines were the RTD 2015 chairs and they embraced the RTD ethos, continuing to establish the novel, synergistic format that supports the dissemination of practice based design research. Responding to feedback from the inaugural conference, new elements were introduced for RTD 2015, including: a larger, more diverse Programme Committee and reviewer pool supported by an online submission system; opening up the forms of work submitted; a more open approach to formatting final proceedings, published online through Figshare; a "Making Space" session within the programme that included performances and tours around the exhibited work; "Provocations" to replace the traditional keynote; and documentation of the unfolding conference experience.
The chairs of the RTD conferences have continually endeavoured to create a dissemination platform that not only feels supportive to 'research through design' practice but also to holding reflective and inclusive discussions about the work. As a result, RTD is further envisioned to provide a platform for early career researchers with a practitioner background, and to be an approachable forum for those design practitioners who may be relatively new to research.